Who I Am
My name is Tim Harris and I am a Beachbody fitness coach. In my spare time, I enjoy working out and helping others achieve their fitness goals. I have been an avid weightlifter for over twenty years and I have experienced multiple body transformations over the years. As a youth I started off with a very scrawny body frame to becoming a wide bodied power lifter. As I have gotten older, I started experiencing joint aches and developed bursitis in both shoulders which caused me to become inactive. In short, I had to leave the heavy lifting alone and as a result most of my muscle that I worked so hard to achieve became covered with fat.
I wanted change so I gave P90X a try. I have completed my first round and I am truly happy with the results. I challenge anyone to give it a try and you will not be disappointed. My waist size went from a 38 to a 33 in just eight weeks and I lost a total of 15 lbs during that time. With proper nutrition, and muscle confusion you can achieve that "action figure" body no matter what age. You get out what you put in plain and simple!
Before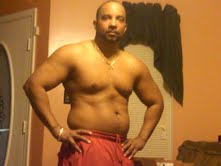 After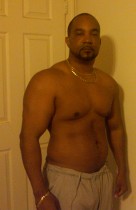 To your good health! I am here to help you achieve that ideal body internally and externally.
It is remarkable how ones wits are sharpened by physical exercise.
-Pliny the Younger

MyFitnessPal - Nutrition Facts For Foods